Powder coating of metal creates a polymer coating – provides anti-corrosion protection and a diverse appearance of products.
History of powder coating
At the end of the 50s of the last century, powder paint was developed in order to improve the quality of the coating, provide protection to painted products, reduce painting costs and reduce environmental damage.
In Germany, patents for the use of powder technology began to be issued in 1950-1955.
In the 1960s, an anodizing system was developed. Paints with the "Metalik" effect and high resistance to external influences appeared.
In 1963, the first electrostatic sprayers began to be produced in Europe.
In 1965, varieties of powder paint began to appear. Epoxy paint was invented first.
In 1968-1972, they started making paint based on polyester, epoxy resin, and acrylic for decorative painting.
The first factory for the production of powder paint appeared in 1974 in the USA.
Powder coating: coating technology
The painting process consists of three stages:
Surface preparation
Spray paint
Polymerization

The first step of powder painting metal parts is the most important and takes a lot of time, because the quality of the painted product depends on the quality of the prepared surface. Proper product preparation includes cleaning, degreasing, and surface drying, and in some cases, phosphatizing is required to ensure better adhesion.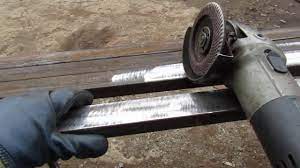 Surface cleaning of metal structures can be mechanical and chemical.
Mechanical cleaning is carried out with the help of grinding discs, or metal brushes, or blast cleaning is used. It is implemented using sand, steel or cast iron pellets. And it is the most effective method of cleaning metal structures from scale and rust.
Chemical cleaning or "etching" is performed by treating metal structures with solutions based on the following acids: hydrochloric, nitric, sulfuric or phosphoric.
This method is recognized as more productive than the mechanical method and easier to perform, however, after the procedure, the product must be well cleaned of acid residues.
The second step is the spraying of the powder coating in the spraying chamber. First, the metal structure is grounded, then electrically charged dry powder paint is applied to the surface of the product with special electrostatic equipment, the paint sticks to the surface. Excess powder, which did not settle on the product, falls in the chamber and can be reused.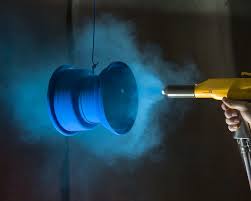 The third step of powder coating is the process of polymerization of structures. After applying paint to the products, they are sent to the oven for 15-30 minutes at a temperature of 150-220 °C. Due to high temperatures, the powder melts and turns into a viscous liquid state, which covers the product with a film. The coating thickness is in the range of 30-250 microns. After cooling, the film hardens.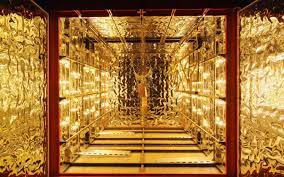 Equipment for applying powder paint:
Spray gun (electrostatic and tribostatic)
Sputtering chamber
Polymerization furnace
Types of powder paints
According to the coverage invoice:
Smooth
Structured (shagreen, moiré, antique, etc.)
By degree of gloss:
By appointment:
for external use
for internal use

Powder coating: advantages and disadvantages
Benefits
Powder coating is a fast method of painting products, thanks to rapid polymerization and heating and cooling processes.
Economy of painting. This technology allows the unused powder to be reused.
High variability of surfaces and colors – more than 5000 colors, shades, structures. See the RAL scale.
Absence of flows on the vertical surfaces of products, as well as wrinkles when drying soluble paints.
Heat resistance: -60 … +120°С
Increased adhesion (per impact 500 nm, per bend 1 mm) and anti-corrosion protection.
Powder coating of metal structures is quite ecological and resistant to external influences.
The process is as automated as possible.
The cost of painting products is lower compared to liquid paints.
Disadvantages
Powder coating is possible only on heat-resistant surfaces or products that can withstand high temperatures of +160°C.
After powder coating, it is impossible to eliminate local defects, or welding – it is necessary to repaint the product.
Limiting the dimensions of structures by the dimensions of the furnace.
Fields of application of powder coating of metal products
Metal furniture frames (tables, chairs, racks, benches, racks, batteries, furniture for offices/bars/restaurants/apartments, etc.)
Car parts (wheel rims, trailers, oil filters)
Aluminum profile products (facades, windows, profiles, cable trays)
Mechanisms of agricultural machinery (plows, planters, tractor parts, motor, chassis, rotors, grain-harvesting augers, grids, cylinders for sowing grain, etc.)
Metal decor (lamps, stands for pots, hangers, stands for umbrellas, metal elements)
Trade and vending equipment (racks, racks, boxes, showcases, stands, terminals)
Playgrounds (children's, sports)
Boilers, stoves, grills, etc
Doors, niche doors.

"TD Altkon" LLC provides powder coating services for metal products in Kyiv.
Camera dimensions: 2 x 2 x 6 m;
Material of products for painting: black metal, galvanized metal, stainless metal and aluminum;
Any color according to the RAL catalog. You can make a preliminary calculation of the cost of metal painting using the Calculator on the website.